By Liu Jie (China Daily)
Updated: 2009-06-01 08:26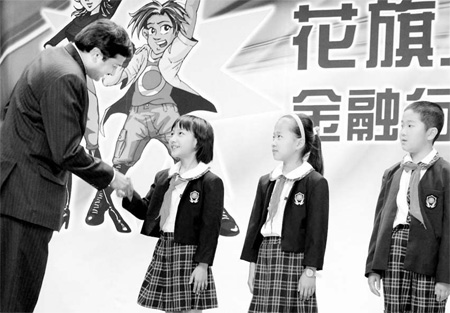 Anand Selva (left), executive vice president of Citibank (China) Co Ltd, shakes hands with students who perform a play depicting characters in the book of "Agent Penny and Will Power in Operation Finance" at the Peking University Supplementary Primary School in Beijing. File photo
Citibank (China) Co Ltd recently launched the second phase of a financial education program for children aged between 8 and 12 in Beijing, Shanghai, Guangzhou, and Shenzhen.
The program is centered around a comic book, entitled Agent Penny and Will Power in Operation Finance (Agent Penny II). It follows the launch of the first book, The Adventures of Agent Penny, Featuring Will Power in Shanghai in 2007.
To coincide with the launch, a play depicting characters in the book was performed at Peking University Supplementary Primary School. Scenarios included in play reflected commonly used financial tools and concepts, such as budgeting and compound interest, as well as the formation of healthy financial habits, including making and meeting financial goals, maintaining discipline and differentiating between needs and wants. More than 500 students and teachers watched the play.
"Financial literacy is a necessary life skill and a lifelong learning process, and should be imparted to children, especially in their formative years," said Anand Selva, executive vice-president of Citibank (China) Co Ltd.
After launch of the first Agent Penny program in China, the company received overwhelmingly positive feedback from both students and teachers. Teachers said the program contributed to the education of students regarding the financial decisions they must make as they go through life.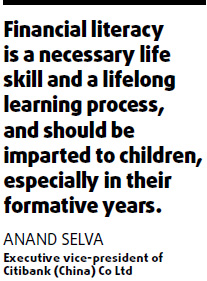 "The first Agent Penny series was a successful initiative that communicated important financial knowledge in the interesting and easy-to-absorb context of a comic book and drama play," said Yin Chao, principal of the Peking University Supplementary Primary School, adding that he welcomed the launch of Agent Penny II and looked forward to the newly incorporated elements, such as English vocabulary.
As with the first phase of the program, Citi China has once again worked with a professional drama company to produce a play based on the stories in the comic book.
The drama company will visit between 40 and 50 schools in Beijing, Shanghai, Guangzhou and Shenzhen over the next ten months, and the play is expected to be seen by around 20,000 children.
Funded by the Citi Foundation, an independent charity foundation supported by Citibank, the comic book forms part of the banking company's financial education series in China to promote financial literacy among children of different ages.
Citi shares the belief that a strong financial education raises the quality of life for individuals, families and institutions, and strengthens communities around the world.
The Adventures of Agent Penny, Featuring Will Power was first performed in Singapore in February 2005. Today the program runs in Malaysia, Taiwan, Hong Kong, Shanghai, Beijing, Guangzhou and Shenzhen.
(China Daily 06/01/2009 page8)